Robbers Cave Experiment
---
Main Findings
This classic study of intergroup conflict and cooperation demonstrated how groups strongly favor their own members (ingroup bias), and how intergroup conflict can be resolved by the groups working together on a common task that neither group can complete without the help of the other group.
Video Introduction
Summary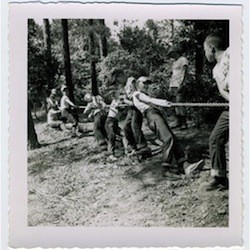 Realistic Conflict Theory is a good example of how negative attitudes and behaviors arise between groups due to competition over limited resources (Yzerbyt & Demoulin, 2010) as demonstrated in this experiment. The experimenters took two groups of 11- and 12-year-old boys (the kids gave themselves the group names the "Rattlers" and the "Eagles") to what they thought was a summer camp. For the first week (stage 1), the two groups of boys were separated and did not know about each other. During this time, the boys bonded with the other boys in their group. Then, they were introduced to each other (stage 2), and immediately the name calling began. To see if conflict would increase, the experimenters created competitions between the groups and the conflict which included hostility, derogation, and aggressive behavior toward the other groups did increase as predicted (Yzerbyt & Demoulin, 2010).
In the third week (stage 3), the experimenters created conditions that required both groups to work together solving a common problem. One example was the drinking water problem. The kids were under the impression that their drinking water was cut off possibly due to vandals. Both groups worked together to solve the problem.
Results
By the end of stage 3 (when the groups worked together on tasks), the group member's outgroup choices (friends from the other group) increased significantly.
Applied Ideas
In the years since this experiment, it has been demonstrated that working intergroup socialization is one of the most effective ways to reduce outgroup prejudice and discrimination.
Other Details
Year: 1954/1961
Researcher(s): Muzafer Sherif
Original Article: http://psychclassics.yorku.ca/Sherif/chap7.htm
Reference(s):

Intergroup Conflict and Cooperation: The Robbers Cave Experiment. Muzafer Sherif, O. J. Harvey, B. Jack White, William R. Hood, and Carolyn W. Sherif Norman: University of Oklahoma Book Exchange, 1961. Reprint edition, Wesleyan University Press, 1988.

Yzerbyt, V., & Demoulin, S. (2010). Intergroup Relations. In Handbook of Social Psychology. John Wiley & Sons, Inc. Retrieved from http://onlinelibrary.wiley.com/doi/10.1002/9780470561119.socpsy002028/abstract