Become a Logical Fallacy Master. Choose Your Poison.
Logically Fallacious is one of the most comprehensive collections of logical fallacies with all original examples and easy to understand descriptions; perfect for educators, debaters, or anyone who wants to improve his or her reasoning skills.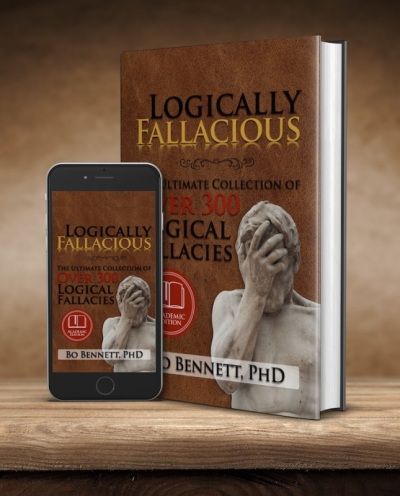 Get the book, Logically Fallacious by Bo Bennett, PhD by selecting one of the following options:
---
Not Much of a Reader? No Problem!
Enroll in the Mastering Logical Fallacies Online Course. Over 10 hours of video and interactive learning. Go beyond the book!
Enroll in the Fallacy-A-Day Passive Course. Sit back and learn fallacies the easy way—in just a few minutes per day, via e-mail delivery.
Have a podcast or know someone who does? Putting on a conference? Dr. Bennett is available for interviews and public speaking events. Contact him directly here.