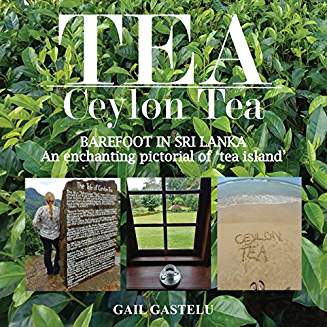 TEA: Ceylon Tea – BAREFOOT IN SRI LANKA: An enchanting pictorial of 'tea island'
by Gail Gastelu

2017 marked the 150th Anniversary of Ceylon tea! As Sri Lanka celebrated all year long, we honored them by publishing this stunning pictorial book about Ceylon tea and the beautiful island country of Sri Lanka.
Inside USA? Order from The Tea House Times directly or Amazon.com - scroll down for more purchasing options.
Outside USA? Look for it on your Amazon shopping website.
WHOLESALE AVAILABLE: Please send inquiries via email.
Text and photography by Gail Gastelu, publisher of The Tea House Times. Paperback. 88 pages. 8.5" x 8.5" square

From the tropical beaches, to stunning high mountain views of tea plantations at every elevation, waterfalls, monkeys, elephants, wildlife, and fruit, the book enchants the reader through breathtaking visuals and brief text entries that not only educate about the history of Ceylon tea but capture the essence of the land, the people, the passion of it all.

Ms. Gastelu describes "Barefoot" to mean an understanding where there once was none. She said, "A journey to any other country is magical but to pluck and process your own tea and feed an elephant in the wild or to eat fruit that is so fresh that nothing could ever compare to the experience ever again . . . this to me was a journey of fulfillment, to experience one of the most beautiful places on this earth along with the kindest, most warm hearted people I have ever met. Barefoot or inexperienced no longer; an understanding has taken place."

Come along for the journey. Owners of this book will experience Sri Lanka and the magical enchantment that embodies the Ceylon tea industry.
INSIDE USA? BUY YOUR SIGNED COPY FROM THE TEA HOUSE TIMES. See website main menu for shopping area.

OUTSIDE USA AND OTHER SHOPPING OPTIONS - USE LINKS BELOW: