Hello! Welcome to my blog. Please allow me to introduce myself, I am Ruby RedHat, the official mascot of the Red Hat Society - one of the largest playgroups for women in the world. Membership in Red Hat Society is enjoyed by thousands of women worldwide.
Although it's true that Red Hat Society Members are physically located in different cities, towns and countries around the world, that fact doesn't limit our connections with one another one little bit. We find ways to reach each other through social media, our very own website community and special events.
For example, each June, we throw a huge worldwide party. We call it Worldwide Hoot Day. A HOOT is an event where we simply choose a location and all gather for a "no agenda" day of mingling, chatting and fun. These local parties connect to all through social media. This year's Worldwide Hoot Day will be held on June 9, 2018.
I have to smile. We've heard it said that when the public peeks out the door of their homes and offices, on Worldwide Hoot Day that they are just sure that Hatters are out and about to take over the world. (Ah yes, that's true but perhaps another day, lovies, when we're not so busy having fun. We'll get around to it eventually but for now, we're happy to sashay around town with our sisters, dressed in our regalia and bling!)
Sound intriguing?! We invite you to get in on the fun, join as a Member and help us celebrate our 20th Anniversary all year-long. There are so many things to do! Check our SAVE THE DATE page for the full scoop. I'll certainly be at the RHS Convention this summer – Let the Good Times Roll! - to be held in the grand old city of New Orleans, LA USA. It will be an adventure of a lifetime! I do hope to see you in there. Look for me, I'm the rather short Red Hatter in the pink scruffies.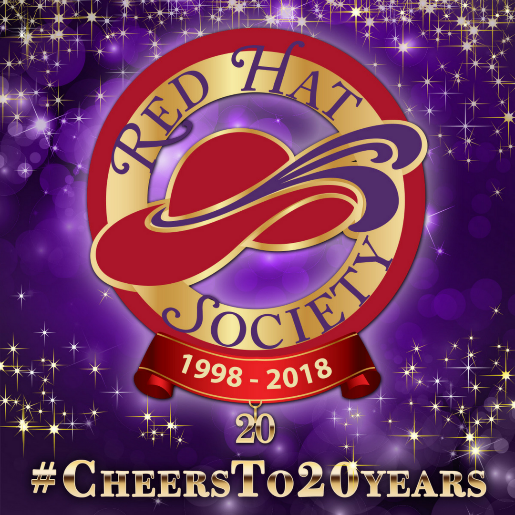 No other women's group is quite like The Red Hat Society. There is magic in our hats! You can learn more about us by visiting our website: www.RedHatSociety.com. Join in the fun! You can also follow us on Facebook, Twitter and Instagram to see how Hatters are cheering for fun in 2018. #CheersTo20Years @RedHatSociety
~ Ruby RedHat, Red Hat Society
Automatically run a search for all posts by Ruby, HERE.

- - -

RUBY REDHAT is the official mascot of the Red Hat Society. In the year 2000, a little lady named Ruby appeared, out of nowhere, on the computer screen of EQM Sue Ellen's daughter, Andrea (aka Princess Daughter). Princess Daughter was working on the first Red Hat Society website and when Ruby got wind of it, she just volunteered her services as a representative (mascot?) for the entire membership. Ruby had recently finished compiling her Top Ten (plus one) Rules for Living and she had a feeling that both she and her rules would be able to help the Red Hat Society clarify its members and its purpose to the world. We are all thrilled to have her represent the little girl inside all of us, who is ready and willing to come out and play again in every woman who invites her to do so.
- - -
Click for more eNews + Blog Archives
© All content + images copyright of news/blog providers.
- - -
NOTE: The inclusion of news or advertising in The Tea House Times publication, on our website, or in our online eNews does not constitute endorsement.
- - -
POSTS SPONSORED/PUBLISHED BY TheTeaHouseTimes.com
Weekly eNews is circulated via email. Join list at top of home page.
The Tea House Times is published 6x per year in print & digitally.
INFO - SINGLE ISSUES | SUBSCRIBE | ADVERTISE | CONTACT
SOCIAL MEDIA - Follow us @teahousetimes
EDUCATION OPTIONS-
TeaCourse.com | TeaEtiquetteCertified.com | TeaCourseFastTrack.com
ONLINE TRADE SHOW- TeaTradeShow.com
SHARE THIS ↓