Toastmasters Podcast #080: How To Deliver A TED Talk, with Jeremey Donovan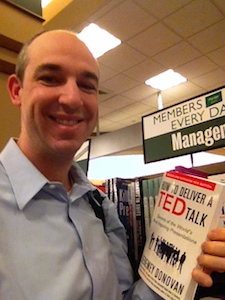 [22:00] Jeremey Donovan is the author or co-author of public speaking books that focus on TED talks and the Toastmasters World Championship of Public Speaking, respectively. A longtime Toastmaster who has earned his DTM award and spoken at TEDx, Jeremey wrote the best-selling book How to Deliver a TED Talk: Secrets of the World's Most Inspiring Presentations. More recently, he co-authored with Ryan Avery (Toastmasters' 2012 World Champion of Public Speaking) the book Speaker, Leader, Champion: Succeed at Work Through the Power of Public Speaking.
Jeremey is Chief Marketing Officer of American Management Association (AMA) International. AMA is the world's leading nonprofit, membership-based management development, research and publishing organization. Prior to joining AMA, Jeremey served as Group Vice President of Marketing at Gartner Inc., the world's leading information technology research and advisory company. During his career, Jeremey has held a variety of individual contributor and general management roles in the semiconductor industry and the information services business.
Copyright The Toastmasters Podcast - https://www.dowellwebtools.com//tools/bg/Bo/tmpodcast