Toastmasters Podcast #070: 2013 International Convention Special Sneak Preview! (Part 2)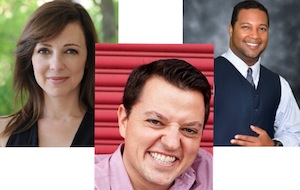 [25:40] Toastmasters International has named Susan Cain its 2013 Golden Gavel recipient. Cain is an author and celebrated speaker who is an expert on introverts. Her book, Quiet: The Power of Introverts in a World That Can't Stop Talking, was a New York Times best-seller in 2012 and has been translated into more than 30 languages. "The Power of Introverts," her talk at the TED2012 conference in Long Beach, California, has generated more than 4 million views and was named by Bill Gates as one of his all-time favorite talks.

Ryan Jenkins, ACB, is an author, speaker and coach based in Atlanta, Georgia. Ryan equips leaders to understand and leverage the younger generation by providing tools for thriving in a multi-generational marketplace. Companies benefit from his advice through improved productivity, communication and innovation.

Vincent Ivan Phipps, founder and president of Communication VIP (Very Important People-skills) in Chattanooga, Tennessee, is an authority on professional attitude, leadership and interpersonal communication. Through speeches, interactive seminars and coaching sessions, he helps corporate teams and individuals enhance their professional skills.
Copyright The Toastmasters Podcast - https://www.dowellwebtools.com//tools/bg/Bo/tmpodcast