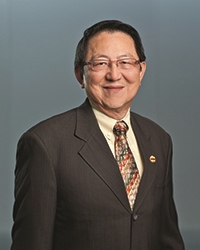 [21:55] George Yen, DTM, of Taipei, Taiwan, is Chairman of the Board of Great Sequoia Corporation, an international management and trading company based in Taipei, Taiwan. He also serves as the chief executive officer of four international joint ventures. He speaks four languages and holds a master's degree in international relations from the Wharton School at the University of Pennsylvania.

A dedicated Toastmaster for 24 years, Yen is a member of four Toastmasters clubs. He has held a number of distinguished leadership positions within the organization and has attained the Distinguished Toastmaster designation — the highest level of achievement in Toastmasters.

Yen credits much of his success to Toastmasters. "My Toastmasters training gave me the confidence to stretch my comfort zone," he says. "It has sharpened my clarity and power in thinking, speaking and writing." As for his international career, he says Toastmasters "has expanded my network of friends worldwide and has provided me with a sense of empowerment."

As International President, Yen is a "working ambassador" for the organization. He works with the Board to develop, support and modify the policies and procedures that guide the organization in fulfilling its mission.
Podcast Episode: Toastmasters Podcast #073: Meet George Yen, our 2013-2014 International President
---
Our Sponsor:
Life Mastery Online Course
If life had an instruction book... this would be it.

I have put together an intensive online course on Life Mastery based on decades of research and experience. I invite you to participate at 90% off the release date rate while I complete all the lessons, with the expected completion by the end of 2019.
In this course, you will…
Learn how to really connect with others
Learn the tricks to having strong relationships
Learn what you need to know about your health and staying fit
Learn how to increase your overall well-being
Learn how to be better person
Learn how to be a responsible member of society through improving your critical thinking skills
Learn how to be more creative
Learn how to sell
Learn how to handle money—and make more of it
Learn about the major religions of the world
Learn about getting a job—and creating one
Learn about success and how to achieve it
And more
This course is a result of the continued research that suggest adults in the United States today are woefully unprepared for today's social and professional environment. People struggle with effective communication, relationships, weight and health issues, depression, life purpose, achievement, discerning fact from fiction, selling ideas to others, earning enough to live comfortably, finding jobs, and overall peace of mind. These are problems that get in the way of living a happy and fulfilling life when one's energy is spent on just trying to get by. This course addresses each of those problems, and many more, with the goal of helping you avoid those problems while focusing on what energizes you most.
By the end of this course, you will be on the right track to designing the life you want to live, and living it well!
Dr. Bennett is available for interviews and public speaking events. Contact him directly here.