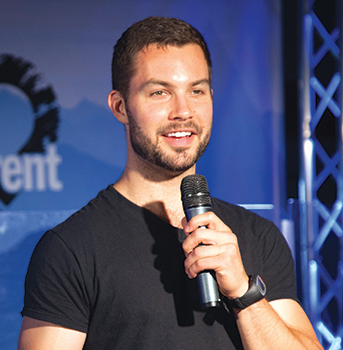 [26:31] In this episode, Greg and Ryan speak with Myles Drake, CC. Drake is an adventurous young man from Ontario, Canada who after nearly failing out of school, eventually landed his dream job as a design engineer building cars for the Subaru Rally Team USA after touring the facility. Less than two years later and with the skills he's gained from Toastmasters, his adventurous journey has taken him from beyond his comfort zone to the stage where he's been having an impact on students and young audiences which often number over 1000. Drake is featured in the Q & A section of the January 2018 issue of the Toastmaster.
Drake shares how he discovered Toastmasters during the Q & A portion of a Brendon Burchard, High Performance Academy presentation. This helped earn him a position with the team of Live Different, a non-profit organization that tours across Canada delivering motivational & inspirational presentations in front of young people as well as organizes the building of homes in places like the Dominican Republic, Haiti and Mexico.
Listen as Drake explains the difference between empathy and sympathy, and details how his need for fulfillment and passion caused him to leave his dream job for an opportunity to make a difference in young people's lives.
Myles Drake can be reached on Facebook.