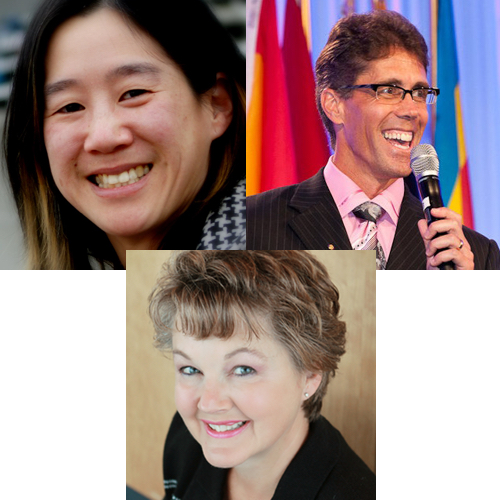 [53:22] On August 26th, 2017 at the 86th Annual Toastmasters International Convention in Vancouver, Canada, a record six Toastmasters earned the Accredited Speaker (AS) designation bringing the total number of designations to 75. In the first part of a two-part episode, Greg Gazin speaks with three of the six, who are all from Canada: Angela Louie, DTM from Vancouver, British Columbia (left); Freddi Dogterom, DTM, from Lethbridge, Alberta (lower center) and Joe Grondin, ATM-G, ALB from Moncton, New Brunswick (right). You'll learn about these three extraordinary and fascinating individuals, their AS journey and a few choice tips they learned from their presentations.
Click on the links to visit the individual AS Speaker spotlight page where you can learn a little more about them and how to contact them. You can also watch the Accredited Speaker finals in its entirety at Toastmasters On Demand.
Learn more about the Accredited Speaker program.
Podcast Episode: Toastmasters Podcast #130: Meet Your 2017 Newly Accredited Speakers Part 1
---
Our Sponsor:
Life Mastery Online Course
If life had an instruction book... this would be it.

I have put together an intensive online course on Life Mastery based on decades of research and experience. I invite you to participate at 90% off the release date rate while I complete all the lessons, with the expected completion by the end of 2019.
In this course, you will…
Learn how to really connect with others
Learn the tricks to having strong relationships
Learn what you need to know about your health and staying fit
Learn how to increase your overall well-being
Learn how to be better person
Learn how to be a responsible member of society through improving your critical thinking skills
Learn how to be more creative
Learn how to sell
Learn how to handle money—and make more of it
Learn about the major religions of the world
Learn about getting a job—and creating one
Learn about success and how to achieve it
And more
This course is a result of the continued research that suggest adults in the United States today are woefully unprepared for today's social and professional environment. People struggle with effective communication, relationships, weight and health issues, depression, life purpose, achievement, discerning fact from fiction, selling ideas to others, earning enough to live comfortably, finding jobs, and overall peace of mind. These are problems that get in the way of living a happy and fulfilling life when one's energy is spent on just trying to get by. This course addresses each of those problems, and many more, with the goal of helping you avoid those problems while focusing on what energizes you most.
By the end of this course, you will be on the right track to designing the life you want to live, and living it well!
Dr. Bennett is available for interviews and public speaking events. Contact him directly here.