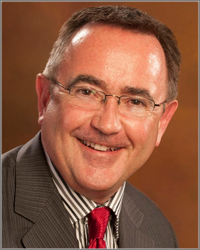 [19:00] Bo and Greg speak with Jim Kokocki, DTM, who is an entrepreneur and business consultant residing in Saint John, New Brunswick, Canada. As a volunteer, he is a member of the board at L'Arche Saint John, part of a worldwide network of communities for people with intellectual disabilities. He also serves as Director of Business Development for Mudge Engineering Associates. Kokocki previously worked at telecommunications provider Bell Aliant and its related companies for 30 years. He recently completed a master's degree in business administration at the University of New Brunswick, Saint John.
Kokocki has also worked with other volunteer organizations, including the Saint John Board of Trade where he served as co-chair of its Business Education Committee. For other organizations, he delivers presentations on leadership, protecting self-esteem, managing conflict, business modeling, and public relations and marketing.
A dedicated Toastmaster for 27 years, Kokocki served on the Board of Directors from 2002 to 2004. In addition to having held a number of high-profile leadership positions within Toastmasters, Kokocki also attained the Distinguished Toastmaster designation—the highest level of achievement in the organization.
"Over the years, I've met many people who tell me that their Toastmasters membership enabled them to hone skills that were important to their success personally and professionally. I look forward to serving and leading the organization's efforts to extend our reach and provide communication and leadership skills to even more people around the world," he says.
As International President, Kokocki is a "working ambassador" for the organization. He works with the Board to develop, support and modify the policies and procedures that guide the organization in fulfilling its mission.