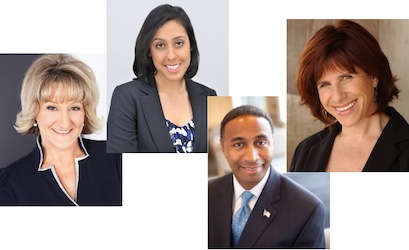 [31:45] Sheryl Roush, Erica Dhawan, Dr. Hassan Tetteh and Judy Carter are among 11 speakers who will present education sessions at this year's Toastmasters International Convention, held August 21–24 in Cincinnati, Ohio. The presenters will offer tips and strategies related to leadership- and communication-themed topics.
Sheryl Roush, DTM, PDG, AS, is a trainer, keynote presenter, speaking coach and author. As president and CEO of Sparkle Presentations, Inc., based in San Diego, California, she works with individuals and organizations to help them boost morale, garner publicity and be more successful. Her 35 years of diverse experience blends in-person, public and print communication skills. Her convention session is titled Heart of a Toastmaster, which is the name of her new book.
Erica Dhawan is a globally recognized leadership expert, corporate consultant and keynote speaker based in New York, New York. She teaches business leaders and companies how to creatively drive performance, improve innovation across generations and cultures, capitalize on the expertise of emerging talent, and prepare for the future. Her session is titled Unleash Innovation with the Power of Connectional Intelligence™.

Dr. Hassan Tetteh, M.D., MPA, MBA, is a U.S. Navy commander and assistant professor of surgery at the Uniformed Services University of the Health Sciences in Bethesda, Maryland. A thoracic surgeon, Hassan served as assistant deputy commander for Healthcare Operations and Strategic Planning at Walter Reed National Military Medical Center. His session is titled Exceeding Expectations: How to Create an Enduring Personal Legend.

Judy Carter is an author, speaking coach and humorist based in Venice Beach, California. Her message of using comedy techniques to decrease work stress has made her a popular speaker for Fortune 500 companies. She also coaches speakers on finding their message and making it funny. Her private clients range from reality TV stars and professional wrestlers to well-known actors, comics and a U.S. senator. Her session is titled Finding and Speaking the Message of You: How Your Personal Mess is Someone's MESSage.
Podcast Episode: Toastmasters Podcast #071: 2013 International Convention Special Sneak Preview! (Part 3)
---
Our Sponsor:
Life Mastery Online Course
If life had an instruction book... this would be it.

I have put together an intensive online course on Life Mastery based on decades of research and experience. I invite you to participate at 90% off the release date rate while I complete all the lessons, with the expected completion by the end of 2019.
In this course, you will…
Learn how to really connect with others
Learn the tricks to having strong relationships
Learn what you need to know about your health and staying fit
Learn how to increase your overall well-being
Learn how to be better person
Learn how to be a responsible member of society through improving your critical thinking skills
Learn how to be more creative
Learn how to sell
Learn how to handle money—and make more of it
Learn about the major religions of the world
Learn about getting a job—and creating one
Learn about success and how to achieve it
And more
This course is a result of the continued research that suggest adults in the United States today are woefully unprepared for today's social and professional environment. People struggle with effective communication, relationships, weight and health issues, depression, life purpose, achievement, discerning fact from fiction, selling ideas to others, earning enough to live comfortably, finding jobs, and overall peace of mind. These are problems that get in the way of living a happy and fulfilling life when one's energy is spent on just trying to get by. This course addresses each of those problems, and many more, with the goal of helping you avoid those problems while focusing on what energizes you most.
By the end of this course, you will be on the right track to designing the life you want to live, and living it well!
Dr. Bennett is available for interviews and public speaking events. Contact him directly here.