Note: This article is available as a free ebook and audiobook that you can download here.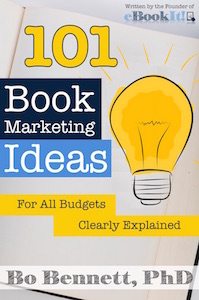 I am a self-published author who has published five books so far. One of my books does phenomenally well, two of my books bring in decent sales month after month, and the other two.... well, I would rather not talk about those. In addition to my own experience as an author, I am also the Founder of eBookIt.com—a company that has worked with thousands of authors and many more books since 2010. This experience has allowed me systematically to study book marketing strategies and use a large pool of data to see what works, what doesn't, and most important, under what conditions. The success of these strategies in this article depend on many factors, some of which include
So when reading through this extensive list of book promotion and marketing ideas, keep these factors in mind.
Wasting Your Time and Money Marketing Your Book
Another important consideration is that even though this list is quite extensive, there are many more ideas that you might find by conducting a basic search on the Internet. If I wanted to, I could have wasted my time and yours, and included these ideas in this list. I didn't (you can thank me later). There are so many ideas that might sound good but are simply not worth the effort or money required. In fact, you might find that many of the ideas in this article are not worth the effort or the money. The only difference between those ideas on this list and those ideas that I left out is that the ideas I left out are pretty much not worth it for any author. As a point of reference, I have implemented about half of these strategies for my books and the other half are just not worth it to me based on the factors listed above. Again, consider each strategy and how you think it will work for you and your book.
Marketing Your Book: The Magic Bullet
I used to say that there was no "magic bullet" when it came to marketing a book, but in a sense, there actually is. The "magic bullet" of which I speak is the idea that success in this area is a result of dozens of ideas all combined and working in harmony. The more of these ideas you put into practice, the more likely your book will succeed. But unlike other "magic," this is neither simple nor easy. It does require effort, persistence, and patience. Come to think of it, this is nothing like a magic bullet. Okay, I guess there is no magic bullet.
Your Budget and Your Time: Without Either, You're Screwed.
If you have no budget, and you are not willing to put a considerable amount of time into marketing your book, then the best you can hope for is that your book is amazing and it goes viral on its own. That might happen, but the odds are greatly stacked against you. Many people have little to no budget for book marketing, and that's okay, as long as they are willing to invest their time and effort. Many people don't have the time and are not willing to put the effort into book marketing but have a decent-sized budget allocated to the endeavor, which is also okay (actually, as a company that provides book promotion services we really appreciate that!) A decent budget and your willingness to put in time and effort will maximize your book's chances of success.
Take the eBookIt Challenge!
Here is my challenge to you, whether or not you are an eBookIt.com client. Take three actions each day toward marketing your book. These can be as simple as asking three friends to review your book, or as major as having your book converted into an audiobook. This is all about momentum and holding yourself accountable for the success of your book. We have created a free tool where you can keep track of your three daily promotional efforts at https://www.ebookit.com/tools/3g/Bo/eBookIt . Registration is required, but anyone can use this, and all entries are private.
To Your Marketing Success!
Bo Bennett, PhD
Founder, eBookIt.com
101 Book Marketing Ideas
I have grouped these ideas by general category, although, many of them can easily be put into several categories. I had a difficult time assigning an importance to each step, as the importance of each step often depends on the factors previously mentioned. So I have defined importance in this context based on what I consider to be the average author with the average book. The ideas in the dark blue boxes with 3 stars are most important, those in the yellow boxes with two stars are of moderate importance, and those in the light blue boxes with one star are of least importance (but still worth doing for many authors!)
Full disclosure: in the "resources" for some steps, I have listed do-it-yourself solutions as well as professional services. When we (eBookIt.com) provide the professional services, we link to our services. Not only does this make sense from a business perspective, but I sincerely believe that there is no better service out there! We can actually implement most of these ideas for you through our comprehensive book marketing service.
Appealing to a Larger Audience
Some top ideas include making sure your book is available to readers. This might seem obvious, but many people just do not realize how important they are.
Doing It Better
While you probably already did a fantastic job with your book, there might be some things that you can do even better that will lead to more sales.
Harmless Bribery
Offering people an incentive for doing something works. There is a fine line that authors can (but should not) cross, such as paying someone who did not even read the book to leave a positive review. The kind of incentive I suggest in the following section is harmless, that is, not ethically objectionable (at least according to my ethical standards).
Internal Promotion
There are many ways you can create momentum within your existing readership. I refer to this as "internal promotion" because you are promoting to your existing readers, and not directly reaching out to new prospects.
Local Promotion
Although when it comes to promoting your book you usually want to think globally (or at least nationally), many books have special geographical significance and the marketing should focus on that geographical area (usually local to the author). But even with books that have no geographical significance, an author can take advantage of some local promotion techniques.
Marketing Foundations
There are some strategies learned in Marketing 101 that are quite important when doing marketing for your book. These generally make all the other marketing and promotion go more smoothly and even make your efforts more successful.
Networking
Networking is the process of communicating with others either locally or virtually, where the communication is focused on what you can do for them and what they can do for you. Of course, you can "wow" them with your book.
Old School Marketing
As new media rapidly takes over the old, the old media providers are getting desperate for business. This means you can generally find some great deals with these more traditional advertising and marketing methods. You can also reach a more "seasoned" demographic.
Public Relations
Much of public relations has to do with dealing with "the press," which for our purposes is loosely defined as people or organizations that will help you promote your book. This also includes building your brand.
Registering Accounts
I thought this category would be helpful and is worth separating from social media because a) the accounts described do not necessarily meet the criteria of social media and b) simply registering accounts and completing your profile can be of great benefit when it comes to marketing your book.
Reviews
Reviews are critical when it comes to sales. There are many creative ways to get favorable reviews but be forewarned, a bad book will eventually get bad reviews. These ideas are no substitution for a good quality book that readers will enjoy.
Social Media
There are many social media platforms that one can use for book publicity and promotion. However, only a few of them are probably worth your time and effort. One can literally spend their entire day maintaining their social media accounts (and many do), but you are an author, not a 13-year-old. Rather than cheat you with dozens of ideas for each platform in different steps, many ideas are combined into each idea in the following section.
Using E-mail
E-mail is still one of the most useful tools in any marketer's bag of tools, and book marketers are no different. Whatever you do, avoid spamming. If you don't know what constitutes spamming, Google it before you participate in any kind of e-mail campaign.
Using Video
Video is a very powerful way to communicate and sell, but it is also something that takes skill and/or money.
Website Marketing
Many non-technical authors don't like to hear this, but having your own website is a must. And by "must" I mean that it is well worth the money in exposure, credibility, and sales. Website hosting fees range from free to thousands of dollars per month. Obviously, a thousand-dollar-per-month website is an overkill for a self-published author, and I would strongly recommend staying far away from the free sites. Check out HostingAuthors.com that I designed specifically for authors and book websites. The ideas in this section are mostly ideas that can be applied to any author/book website, but some of the ideas rely on the tools built for HostingAuthors.com clients.
Working With Bloggers
Bloggers can be more effective than journalists from major media outlets because bloggers can often expose your book to a more highly-targeted audience of readers within your niche. A blogger can be an author's best friend!
Working With Podcasters
Podcasters, like bloggers, can be an excellent resource for authors. If you are fairly eloquent and comfortable on radio, consider these ideas.
Other Ideas
These ideas are just some other ideas that did not fit neatly in any of the previous categories, or did, but they were late ideas that have come in after the numbering was done and I was too lazy to put them in the correct category and renumber everything.
Bonus Ideas
As long as the ideas keep coming in...
Wrapping It All Up
I have presented you with a lot of ideas for marketing your book. I have noted which I think are of the highest importance, mid importance, and low importance, and provided some resources for the ideas where appropriate. It is now up to you to put some of these ideas to work for you. Again, I suggest challenging yourself and keeping track of your efforts using the "3 Daily Book Marketing Efforts" at https://www.ebookit.com/tools/3g/Bo/eBookIt.
Good luck. Now go sell your book!