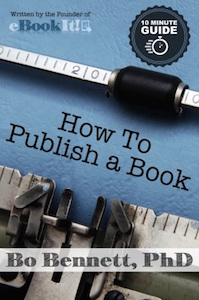 Back in 2004, when I tried to publish my own book (my first book), the process was a nightmare. I spent months sending my manuscript to literary agents and publishers, who I desperately hoped would find my title and book description interesting enough to at least consider perusing my manuscript. As it turned it, my title Year To Success was not "get rich quickly" enough, or as one publisher put it, "perhaps you can change the title to something like 'Success in 7 Easy Steps' since readers are not going to want to wait a whole year for success." Here is where I could easily go on a rant about humanity's desire for instant gratification at the expense of genuine achievement, but I won't. After months and thousands of dollars in mailing, printing, and packaging costs, I found a book distributor who helped authors self-publish books, which essentially means not needing someone else to believe in your book as much as you. But this was only the next phase in what would be a long series of expenses and headaches which included high-volume printing requirements, warehouse stocking fees, return fees, monthly report fees, and the list goes on. I spent over $30,000 trying to publish my own book and only made a fraction of that back. Fortunately, the process of publishing your own book is better today. Much better.
The Better Question: How To Self-Publish a Book?
No longer does publishing your own book have the stigma it once did—mostly due to the changes in the industry including improved technology, author's access via the Internet to self-publishing resources, and the procedures that allow self-published authors to get their books in bookstores without requiring a publisher. And perhaps the general move to self-publishing has occurred because sensible people realize that making roughly 50% of the book sale price is a heck of a lot better than making pennies for every book sold while the publisher gets rich off the work of the author. I would wager that the author E.L. James from the 50 Shades of Grey franchise is darn glad she once Googled "how to self-publish a book" rather than "how do you get a book published" or even "how can I find a publisher to publish my naughty books who will keep 99% of the revenue but still leave me with enough to buy a cup of coffee?"
Book Self Publishing is Easy and Relatively Inexpensive
You no longer need to spend over a year and tens of thousands of dollars struggling to get your book in the hands of readers. When you self-publish a book, you do absorb more of the risk. That is, you are wagering your own money that your book will do well. The good news is, the amount you need to wager can be next to nothing if you have the knowledge, skills, and time to do most of the work yourself. If you do have a little money to invest, there are companies (like eBookIt.com) who can do just about everything but write your book for you. The basic rule of thumb of book self-publishing: The more money you are willing to invest, the easier the process.
How To Publish Your Book: A Step-by-Step Guide
This guide will not go into details about finding a literary agent or publisher willing to pay you up front for the rights to your book, but it will provide you with step-by-step instructions on how to self-publish a book. Spoiler alert: the top-level answer to the question "how do you get a book published" is that you do it yourself, but below we go into the specifics.
And that is how to publish a book, or more specifically, how to self-publish a book. Now that you have a good overview of the process you can look into what is required for each step and decide if you want to do that step yourself or use a service that will do it for you. No matter which direction you go, you will save both time and money by publishing your own book rather than going "old school" and hoping some publisher will see the value in your book that you see.